The return of the Corona Journal, after 4 days off. Honestly, I think the pressure of posting something funny on Day 69 just got to me.
Anyway, I'm back, and ready to give you a rundown of the truly wild happenings of the last 4 days.
24 May
The wildest thing to happen today was that I went to see the little kitten down the road to give her breakfast. Usually, I avoid giving names on this platform but I'm sure the kitten won't mind – her name is Ziggy. I found her curled up on a blanket. I gave her a cuddle and she started purring like a… well, like a kitten, and I have never felt such acceptance in my life. I have always been a staunch dog person but I guess I'm a feline convert now.
25 May (I should probably include a CW for men being dickheads for this day).
Went to Part-of-Household-Friend's flat for the afternoon. Did some gardening, by which I mean I dug through a bit of soil and then sat in the sun drinking Aperol while she did all the work, naturally. Had some vegetable and halloumi kebabs on the barbecue, and when it finally started getting chilly we went inside to watch Too Hot To Handle and Killing Eve.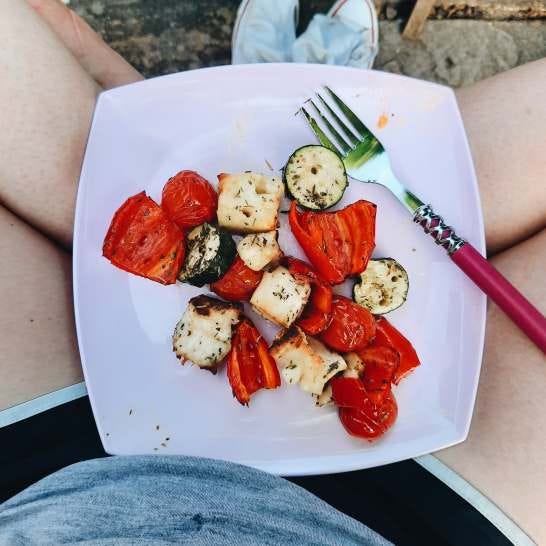 Things took a turn for the worse when I decided to bike home at 10:30 and ended up getting tailed round most of Regent's Park by some men driving slowly next to me and shouting at me. It was really scary, but I managed to lose them by sneaking through a little bike-only shortcut.
The closest Boris Bike dropoff point to home is about a kilometer from our flat. Pretty shaken, I was walking the final part of the way home when I thought I could see an altercation happening up ahead of me. Turns out, boyfriend had come to meet me at the dropoff point to walk me home, but a man on the corner had approached him and aggressively started asking for a cigarette. When boyfriend responded that he didn't smoke, the man said he'd have his headphones instead, then. Seemed like it was all about to kick off, but luckily I arrived at that exact moment and took the man by surprise. I got between them, saying, "Leave him alone mate, he told you he doesn't smoke," and we walked away. I wish I could pretend I was a hero but actually I think that the man was just extremely surprised to see a girl dressed all in white appear out of nowhere.
No jokes here, really, it was just a pretty rubbish experience and part of the reason why this day was the first that I didn't post the Corona Journal.
26 May
A much better day! I spent the morning teaching and boyfriend made me an incredible salmon and cream cheese bagel.
Then mum arrived, having driven to see us for a socially-distant walk. She presented me with a pineapple and some oranges as a present which made me feel like a Tudor queen back when pineapples were delicacies given to royalty. Then we had cans of G&T in the park and went for a wander around green spaces near me, and I got to test out my new flower-identifying app. Just to be clear – I do know that the picture below is a rose, I was just checking if the app knew. As a test to see how accurate it is, you know?
27 May
More teaching; this time I managed to overlap g-ma's lesson with K's which was a lot of fun. I genuinely really enjoyed getting to teach them together. As soon as lessons were over, I hopped on a group Zoom call for my brother's birthday which was a real laugh, and he seemed to really like the pic'n'mix box I made him, so that was a lot of fun.
Went for a big walk/cycle to Regent's Park with boyfriend and then got home in time to plan some more lessons and teach my lovely pals some Italian.
28 May
More teaching. Flatmate comes into kitchen just after I have finished, takes one look at the bowls in the sink full of yellowish goop and asks, "Did you have a lesson with M by any chance?"
Today's delicacy was milk, banana, vinegar, water, salt and pepper, blended into a smoothie. But at least he said it all in Italian.
Then hopped on another Zoom call for sister's birthday (yes, one of my brothers and my sister have birthdays on adjacent days, and they're both geminis. It's a lot). She also seemed to like the socks I got her covered in pictures of her and me pulling our ugliest faces.
Then it was time for another big cycle with boyfriend and flatmate. I really like cycling with them because I'm not the most confident cyclist or navigator – I mean, I'm fine for short journeys, but I've done three rides with the boys now of 20+ miles across London which I'd never do alone. This time we cycled all the way to Greenwich and back, which Strava tells me is 27.5 miles.
We ordered sushi when we got home from our favourite sushi place and felt good about supporting our local restaurants (lol), then boyfriend cracked out the Nice Wine he got from the Nice Independent Wine Shop (again, supporting the local economy, god we're such good people) and it was indeed extremely Nice. Then we played Settlers of Catan (I seem to have forgotten who won) and watched some of Casino Royale. I wasn't sure I had ever seen it before, but flatmate asked if 'chair without a seat' meant anything to me and I remembered that I definitely have seen it before after all.
So, that's how lockdown life is treating me; how about you?
Good to be back, friends xxx