9:45am Oh God.
9:50am Oh God oh God oh God.
9:51am I have to teach in 9 minutes.
9:52am Sit up. My head is spinning. Pray that lessons have been cancelled.
9:53am Check phone. They have not been cancelled.
9:57am Sitting in front of laptop. Boyfriend, back from his night shift, offers to make me a coffee and I gratefully accept. He asks if I want the chicory coffee. I look at him, last night's green glitter still clinging to my eyelashes. "Caffeinated it is," he tells me.
11am Struggled through the French lesson. Not my finest hour.
12pm Couple down the road have left their flat for the evening and asked if I could go round to check on their 3-month old kitten twice today and once tomorrow morning. They only live 4 minutes down the road, so drag myself there.
1pm Ok, I'm not a cat person but this kitten is the most adorable thing I have ever seen in my life. Nothing like playing with a kitten to cure a hangover.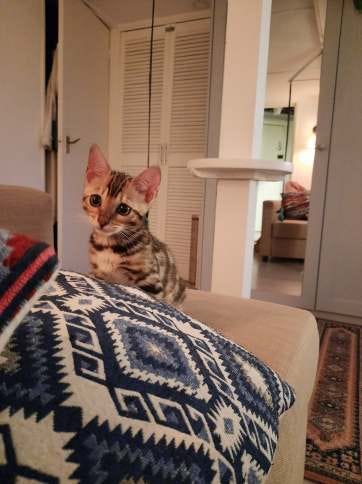 3pm Back home, watching Sex and the City. Try to eat some cheese and biscuits; feel sick.
5pm Boyfriend wanders through living room in search of food. Asks why I am sleeping on the sofa. Hadn't meant to fall asleep. Crawl to bedroom and curl up next to him instead.
7:30pm Feel like I need something healthy in my system, so make a salad from beetroot, pomegranate seeds, oranges, halloumi, rocket, pine nuts, red onion, mint and dill. It is the most unfulfilling and sad salad I have ever eaten, although boyfriend sweetly insists he likes it. Either he's lying to be nice to me or has very low standards.
8pm Boyfriend has left for nightshift and I have gone to check on kitten again. I only mean to pop by, but after feeding her I end up playing with her for an hour and then lying on their sofa for a further 30mins reading a copy of The New Scientist that I bought on a whim for SIX ENTIRE POUNDS. I am absolutely unpredictable these days.
11pm Have a headache. Have been trying to write today's Corona Journal but am still hungover (!?!?!?!) and it's taking me ages.