8am Alarm goes off; I am ready to be productive!
11:30am Get out of bed. Ok, not a day to be productive then.
12pm Is it ironic that boyfriend spends his free time killing people on Call of Duty and his working hours helping people live longer in A&E?
1pm Third card has arrived for boyfriend, from mum. Think she may have lost the plot.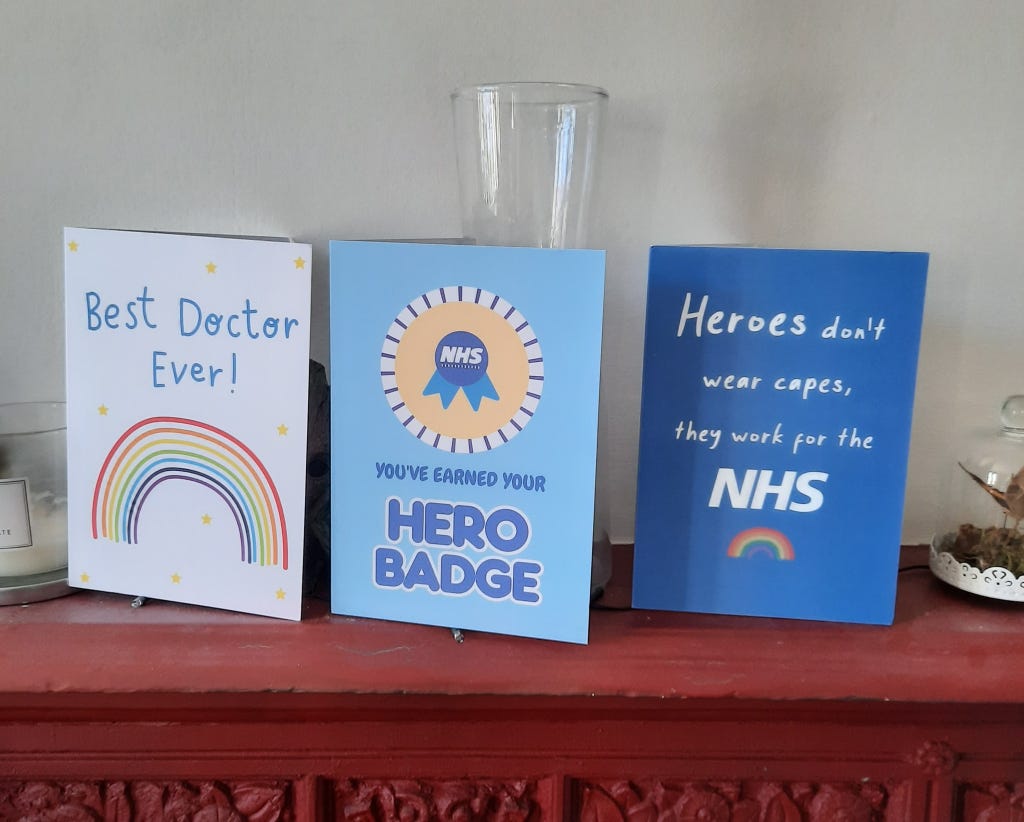 2pm Ordered a book from West End Lane Books, a local independent bookshop, last night at 9.30pm. It has just been hand delivered to my door for free! The book was only £1.50 cheaper on Amazon and I would have had to pay for postage. Fuck Mr Bezos amirite.
2:30pm Oh my God Huw Edwards has just followed me back on Instagram. This is not a drill. I have well and truly MADE. IT.
7pm Getting ready for our online 70s Murder at the Disco party, organised by amazing friend (a libra – who else would put so much time and effort into organising this? A moment of thanks for our libra friends, if you please).
7:10pm My character is 'Soux Patroopa', blonde singer of Swedish pop group 'The Dancing Queens' along with 3 other members, Björk, Bjönny and Bjïngo.
7:30pm Mum calls me and I prop up my phone next to my mirror while we chat. She comments on my make up, sweetly telling me that I look 'far too nice' for anything 70s-themed. I soon sort that out with lashings of bright green glitter piled onto my eyelids (and, it should be noted, into my eyes. Ouch). Obviously I forgot to take close up photos of my outfit because I'm the worst, but don't worry, mum got a horrendous screenshot of me on the video chat which is so unattractive that I can only show you the eyes and must crop out the rest of my face.
Absolutely terrifying, I'm sure you'll agree. Also this wasn't the finished look so leave my makeup skills out of this.
8pm Obviously having connection issues. Wouldn't be an online party without someone unable to connect. Tonight is a big Zoom night in our flat, as flatmate has spent ages composing an elaborate pub quiz for his pals – annoyingly, the internet doesn't always work in the bedrooms, so I spend a long time messing around with bedroom laptop setups and end up sitting on the floor with the laptop on a chair in front of me, the only way the internet will work.
8:10pm Finally have managed to log in! Feel like my normal self, showing up late to parties. Nobody mentions that I am sitting on the floor.
9pm Cannot stop cracking up. Everyone's costumes are en pointe and the accents are even better/worse. The acting is amazing and I spend most of my time muted because I am laughing so hard. Incredible casting from Libra.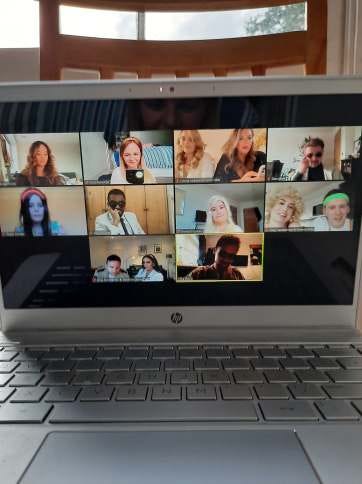 10pm The game is up, the murderer has been revealed and I have drunk a whole bottle of prosecco. I am somehow awarded prizes for best acting and best ad-libbing, which is very sweet but must have been a mistake because I gave up on my Swedish accent 2 sentences in and went German instead.
11am We're not ready to finish the party or to stop drinking, so instead we are playing Psyche, which is a bit like online personalised Cards Against Humanity.
12pm Murder Mystery party has descended into chaos. We are now blasting our favourite Eurovision songs. I barely register that over half of the attendees have left.
1am Listen, everyone, it's not big and it's not clever, but I am extremely drunk and have had a bloody brilliant night.
3am Shoudl prbbly go to slee now.